Rio Paralympics Wheelchair Basketball Tournament Log 1: Turkey
Day1
09/08/2016
vs Turkey
@Carioca Arena1

This first match, once again, impressed upon me the importance of gaining and leveraging world class experience.


The first opponent at the Rio Paralympics is Turkey, a strong team ranked #2 in Europe. We haven't faced them before.


7 of the 12 members of Japan's team are playing in their first Paralympics.


Aside from Fujimoto (4th), Fujii (4th), Kozai (3rd), Miyajima (2nd) and Toyoshima (2nd), the other 7 members are experiencing everything for the first time. And not just the games, but everything from the time when they enter the Paralympic Village.


It looks like spectators fill 80% of the seats in Carioca Arena.

As with every Paralympics I've seen, it feels like their reaction indicates that this is the first wheelchair basketball game they have seen. Every shot and pass elicits fresh, loud cheers. The audience reacts loudly when players collide violently and fall over.

As the game heats up, so does the arena as it gets louder and louder. Whether it is because they enjoyed themselves or because they just wanted to be boisterous, or both, by the end of the game the arena is filled with the loud cheers of the spectators.

Against a physically superior team, Japan had planned to rely on their basics and strategy to compete. However, their accuracy went down in the second half and they couldn't catch up as they fell behind in the final quarter and lost.

49 - 65.

Even against Europe's 2nd ranked Turkey, there was no hiding the toughness of entering the first match of the Paralympics. But Japan showed their own toughness as they played on this stage. As part of that, you could feel the world class temperament from Fujimoto and Kosai, the two aces that have experienced this stage numerous times. In the first half they did what they had to do to keep the game in control, they spread around passes and took high percentage shots.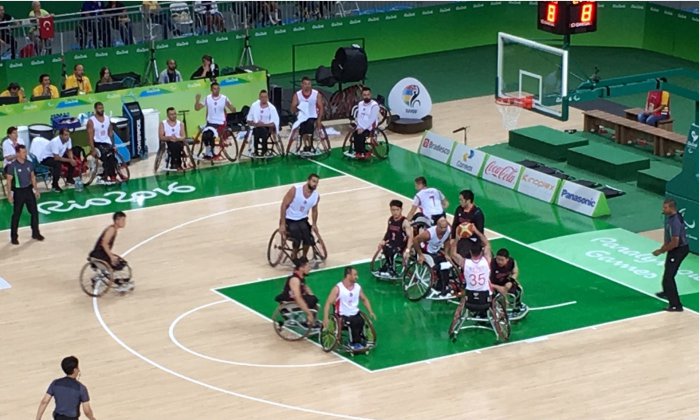 The 5 players who come on the court for a complete substituion of the starting 5 are called Unit 5. They hold the key to this team. The two units have different makeups and different roles. But just in terms of experience, there is a big difference when compared with the starting Unit 1. This game endied without Unit 5 being able to play effectively.


From Unit 1's Fujimoto:
"It is the responsibility of those of us with experience to support and lead the others in coming on court with the same level of energy and tone."


They lost the first match to Turkey. Japan was not able to effectively swing the game into their type of game. But, showing that there was no question that they had prepared, Fujimoto proudly stated that "we had our best result ever for how we entered the first match".

Tomorrow they will face Spain, and as with today, there will also be a large physical difference.
2016.10.08