Rio Paralympics Wheelchair Basketball Tournament Log 3: The Netherlands
Day 3
09/10/2016
vs Netherlands
@ Olympic Arena

"Calmly and cooly do what you have to."

That's the mental state the Japanese National Team is in so that they can put on the performance they have diligently prepared for. It's an attitude that you would be hard pressed to find in shonen manga. Normally, it is easier for manga to show everyone in the locker room before a game with their emotions boiling, then running onto the court yelling loudly and with blood coursing through their eyes. This is the complete opposite of that.

But, in today's must win match against the Netherlands, will a fighting attitude not determine who wins? If they can't topple their opponent, then they themselves will fall into the cellar. Or is that just a fanciful thought born from the head of this manga artist? In fact, a balance between a burning, fighting attitude and a cool, calculating one would be ideal.


Off topic, but it has been really difficult to access the media entrance at Carioca Arena yesterday and at Olympic Arena today. What is up with that? We had to walk a long way and made it to our seats just in time for the game to start. We were saved by the friendliness of the Brazilians.


The game starts. They get off to a bad start. The media seats are very high so it is hard to get a good feeling for the emotions of the court. But, even more fundamental than trying to be "calm and collected", Japan's energy level appears to be low. In the meantime, the Netherlands's #23 and #11 shoot with a high 80% (!) accuracy and pile on the points. With only 2:43 left in the first quarter, the Netherlands has opened up a 16-6 10 point lead and head coach Oikawa calls a timeout.

Looking back at my notes for the time, I had scrawled out "What about subbing in U-5 (Unit 5)?".
* Unit 1 (Toyoshima (#2), Fujimoto (#4), Chiwaki (#13), Fujii (#15), Kozai (#55) + Ishikawa (#31))
* Unit 5 (Tsuchiko (#3), Toyoshima (#10), Fujisawa (#11), Nagata (#18), Chokai (#0) + Murakami (#24))
* Many other combinations

Looking back at the game, this was probably the only point where Unit 5 could have been dropped in. However, it would have been in direct opposition for what their role is. Instead of coming in to take the hand off from Unit 1 after they had grabbed the momentum, they would have been brought in to try to disrupt the opponent's momentum. But at that time, that far behind, they probably could not lightly take the risk that trying to disrupt an opponent in control of the game would instead cause themselves to fall apart.


In the second quarter, Fujimoto (#4) is shooting his best and scoring points. Japan slowly gets into a position to catch up. Ishikawa (#31) come in and the defense becomes more effective. The Netherlands is forced to take tougher shots. Kozai (#55) creates his own game. He induces fouls and adds points via free throws. Only 3 points behind. The momentum has shifted towards Japan.


They've caught up by not getting caught up in their emotions and patiently, patiently keeping cool. They've caught up by being calm and collected. It is a time when their team concept has become a reality. Let's call it the result of head coach Oikawa accurately predicting that Unit 1 (Toyoshima (#2), Fujimoto (#4), Chiwaki (#13), Fujii (#15) -> Ishikawa (#31), Kozai (#55)) by themselves could play through the first half and keep it close.


But there's still another half left to play. The battle is coming up. When will U-5 make an appearance? If there is the option of them not playing, what will happen to U-1's stamina? That point will be what decides the battle.

In the third quarter Japan keeps hold of the momentum. The defense is effective and Kozai (#55) shoots the go ahead basket. Here, now, this game appears to be the turning point of the tournament. After losing two tough games, they are now heading up the mountain they had charted for themselves.


But their hopes were not to be.


Mustafa (#23) sinks three baskets in a row to take the lead. After Fujimoto (#4) and Toyoshima (#2) make baskets to once again taka a one point lead, Japan commits two turnovers at the end of the quarter and gifts them four points. Fatigue is starting to eat into U-1.


U-5 enters the game for the first time to start the fourth quarter. But this substitution is for nothing more than just to give U-1 a bit of rest. U-5's strengh is their strong defense. But head coach Oikawa sees that their defense is not effective against the Netherlands and brings U-1 back onto the court after a minute.


Fujimoto (#4) scored 21 points in the first half, but went long periods in the second half without touching the ball. The four time consecutive Paralympion had this to say about the 2 goal, 4 point second half. "I should have called for the pass even if it meant yelling like a madman." There are times when an ace has to have an ego for the good of the team.



In another key battle, The Netherlands win a hustle play for a loose ball and quickly attack. Today's big contributer, Mustafa (#23) sinks 4 in a row and suddenly they have a nine point lead and seal the win.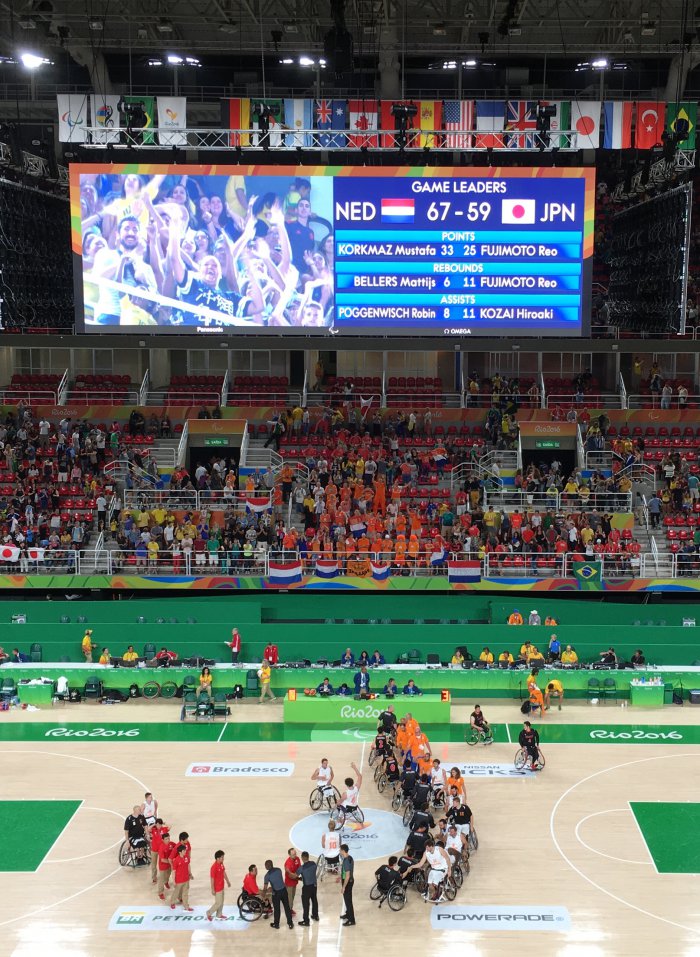 I wonder if the difference in the game was really how it started.


The slow (or so it appeared) start caused them to fall behind, and they quickly lost the opportunity to make use of U-5. Leaving U-1 on the court drained their stamina. Japan was always just a step late with their actions.


Also, Mustafa (#23) scored 33 points and did critical damage to Japan. He is said to be a streaky player, and today he hit a good streak. But was it just a coincidence? Shooters get in a groove when they get off to a good start shooting. They let a player who they couldn't afford to let get into a groove, get into a groove.


The turning point of the game had already occured right afer it started.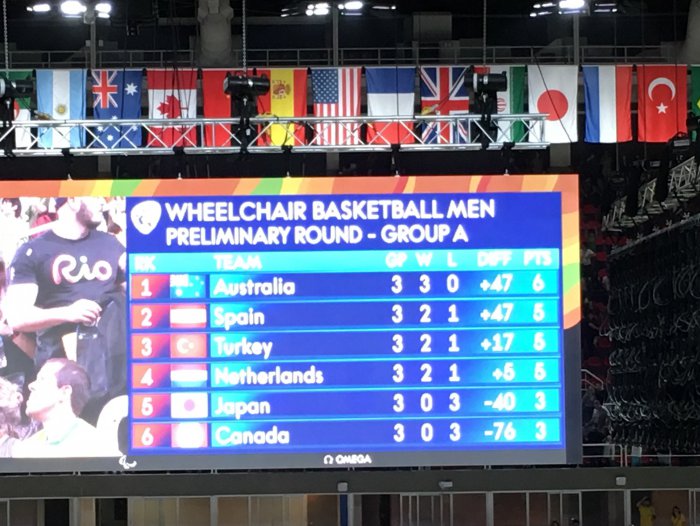 9/10/2016
2016.10.12