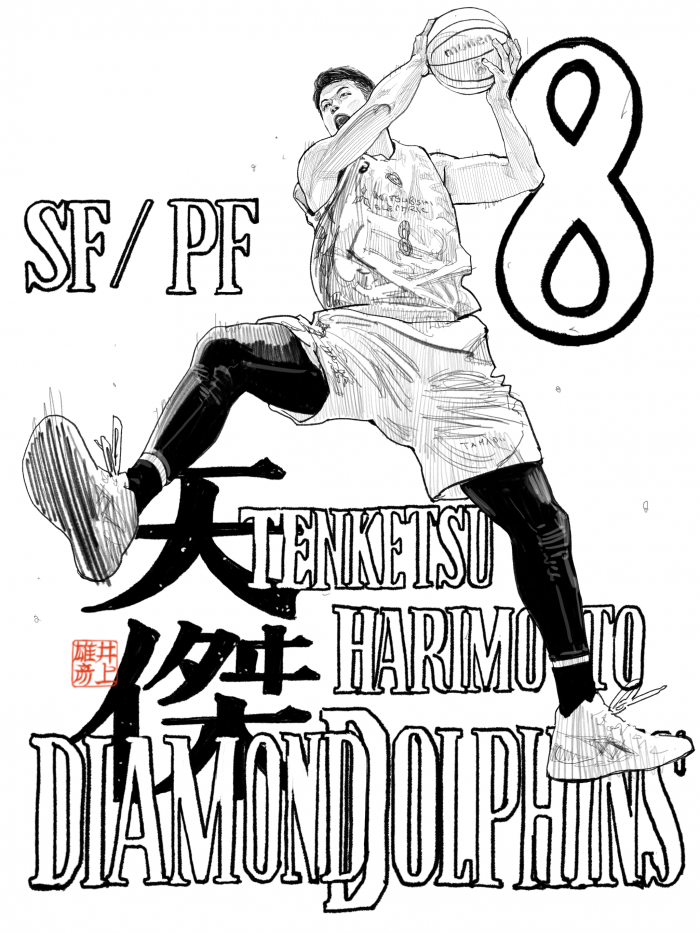 B League Entertainer and Chef
I interviewed the Nagoya Diamond Dolphins' forward Tenketsu Harimoto.
(The article can be found here:
http://www.asahi.com/articles/ASK2B4RKKK2BUTQP00N.html)
"I wonder if we could form a select group of stars from the B League and
travel around America learning from the masters?"
He asked with a serious face.  That's what came out Harimoto's mouth when
asked about what he thought of the Japanese National Team.  A weakness of
the Japanese National Team, himself included, is their lack of
international experience.  I wonder if those words came out because he
himself felt that they would not be able to compete at a high level
internationally without overcoming that lack of experience.
Before he entered 6th grade, he moved to Japan (to the city of Miyoshi in
Aichi prefecture) from the city of Shenyang in China.  He has lived in
Japan ever since.  He became a Japanese citizen in high school.
He was showered with boos in China when he played in games there as a
member of the Japanese National Team.
He understands the weight of carrying the banner of his country into
competition.  He does not hesitate when talking about the national team.
"We have to compete more and more."  A great trait of the Japanese is that
they are considerate of others.  However that can become a liability in
basketball.  In this game, compromise is no virtue.
He started playing basketball by running and dribbling after his father's
motorcycle as a kid.  His body was so big, that he just barely avoided the
danger of being put into the judo club in middle school.
His training during his time at Chubu University Daiichi High School was
nothing short of super grueling.  He would run 4-5 kms in the mountains
with the track and field team, then take a breather.  Then it was footwork
until his lower body was tight, and only after that did basketball
practice begin.  He had been on the heavier side until then, but he
quickly slimmed down.  To the point where he couldn't gain weight no
matter how much he ate.  He would make his own bento in the morning and
eat it in front of his coach.
At Aoyama Gakuin University, he met the two players that would motivate
him to turn pro.  Naoto Tsuji, the shooter who was 2 years his senior, and
Makoto Hiejima, the scorer who was 1 year older.  Even if others saw him
as having size, able to shoot, able to drive, able to attack the inside,
able to do anything — he felt that he could never be like the two of
them.  Meeting them gave him him the opportunity to think about what
weapon would allow him to survive.
Defense and rebounds.  When he joined Toyota Alvark (now Alvark Tokyo),
Takuma Ito, the head coach, told him to become the Rodman of Japan.  The
famous Rodman was a record setting star defensive player and rebounder in
the NBA.
When he was with Alvark, he matched up with an American born player who
was visibly unhappy facing his defense.  That made him happy.  "This is
it." he thought.  Harimoto, who could do everything flawlessly, gave birth
to his own self defining weapon.  But even with that, the time as a bench
warmer continued on the heavily talented Alvark team.  He asked for a
trade to get more playing time.  He went to play for the Nagoya Diamond
Dolphins in the inaugural year of the B League.
Aichi prefecture was where he was from.  He mentioned that Tokyo was fun,
but he felt more comfortable coming back to Nagoya.  He feels at home.
The team is young, and they get along.  He believes that he needs to take
some of the burden of being a leader among them.  As the young players
gain experience, their maturation will feed into the team's growth.  The
Diamond Dolphins is a team in the middle of such a growing phase.
He fancies himself to be the B League entertainer.  He has also appeared
in the All Star game.  "On such a big stage, with such a large spotlight
on you, why wouldn't you do something?"  He was mystified.  "You can't
just nod your head and bow as you come in!".  "That's why I was dancing"
he laughed.
His family runs a Chinese restaurant so he's good at making Chinese food.
He cooks and plans camps and generally watches out for everyone.  His is
an honest personality who can't hide anything.  Even during the interview
he talked about things I can't write about here.  I thought that the
Nagoya fans have to love this character and that they will just keep
growing in number.
I'd love if they took his cooking specialty and started selling a
"Tenketsu Bento" at the arena.  I would definitely eat that when watching
a game in Nagoya.
Harimoto was chosen as the last member of the Japanese National Team for
the games against the Iranian National Team on 2/10 and 2/11 at the
Hokkaido Prefectural Sports Center.  But they ended with him as DNP (Did
Not Play).
I can only guess at how frustrated he must have been.  He was chosen as a
member because he was skilled at something.  But even so, he was lacking
something and wasn't used.  He probably faces that question everyday.  But
there is no mistake that whatever the answer is, it will be an even bigger
motivation for Tenketsu Harimoto to grow.
2017.03.01