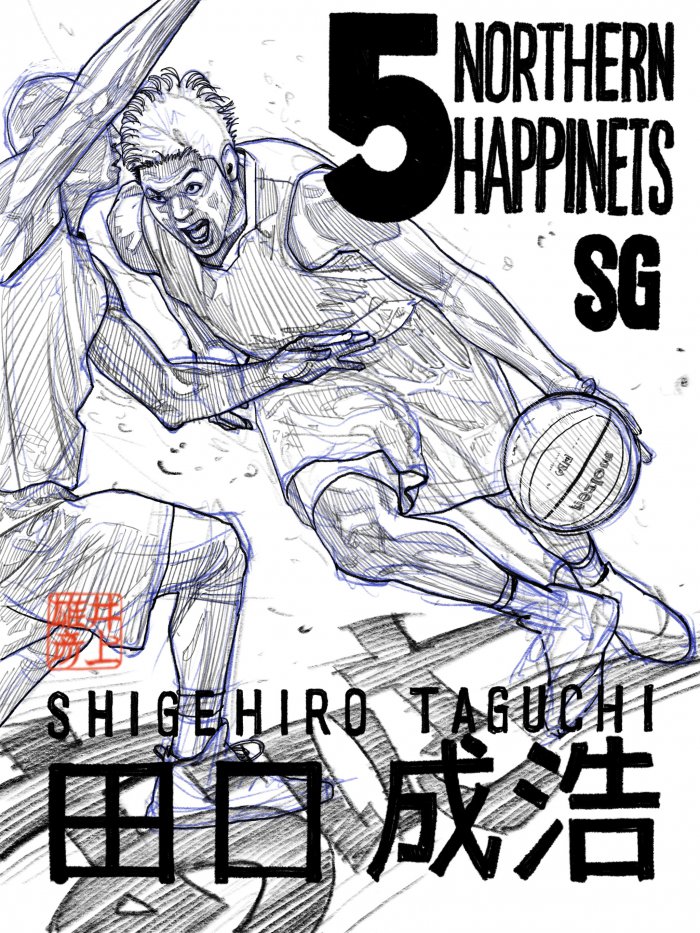 YEEAAAHHHHHH!
I interviewed the Akita Northern Happinets' SG  Shigehiro Taguchi (the
2016-17 B League All Star 3-Point Contest Champion).  (The article can be
found here: http://www.asahi.com/articles/ASK3C0F1KK3BUTQP03R.html )
Akita's games are intense.  The catalyst for that appears to be the fire
within him that gets spreads all around.  He has good looks.  He is well
spoken.  He has good body language.  He is the man who carries his
hometown of Akita on his back.
He says he can tell the difference between the crowd reaction of his home
Akita and the away crowds.  In basketball, the Akita fans all watch the
game with a discerning eye.  What types of plays do they clap and cheer
for?  When they play good defense, for example.  Or when they get a good
rebound.  When they dive for a loose ball.  When their play displays a
recognition of the flow of the game.  Athletes can get a tough schooling
by playing in front of fans who possess a really good understanding of
what types of plays are important in basketball because of their ample
experience watching games.  This probably also influences the basketball
kids who are watching and growing in this arena's atmosphere.
"Basketball as part of our culture".  That's what people connected to
basketball hope for.  I believe that type of culture happens when more and
more people have a common understanding of what is valuable, what to
applaud.  In Japan, Akita is a prefecture with one of the deepest
basketball cultures.
As the B Leagus starts, and as different teams and their cities get more
experience, nothing would make me happier than to see basketball culture
grow and spread across Japan.
As the franchise player of his hometown, Akita, Taguchi feels both a sense
of satisfaction and pressure.  As the captain, it's not just about his own
performance, but his sphere also encompasses his teammates as well as the
boosters.  The Akita Northern Happinets are about winning with everyone.
That's one reason why the fans keep coming to the arena, even though the
stars of winning haven't been shining on them this season.
He played baseball until middle school.  In 9th grade, he suddenly grew
from 165 cm tall to 178 cm.  He went from being a little wide to being
skinny and stretched up on his axis.  He started playing basketball
seriously at Meiokoto High School (previously Akita Keiho Daifu).  He
played center.  As a senior, he played against the powerhouse Noshiro
Technical High School for the Akita regional championship.  They lost, but
he scored 29 points.
Taguchi's style is to find and overcome rivals that are within his reach,
one by one.  Even if he can't yet make it to the top, he sets his sights
on opponents he thinks he can have a chance against if he puts in the
effort.  He slowly made his way to the top by repeating that over and
over.  There was no shortcut.
He became a shooter after he turned pro.  He committed himself to use
shooting as his weapon to survive in the world.
He gives thanks to Kazuo Nakamura, his first head coach as a pro.  "I
think he thought of me as an amateur."  He was the most angry.  And
depressed.  But, he also scolded me "You practice so much.  Why can't you
shoot?"  Only now can he appreciate the love and trust of his coach.
When asked about his current HC, Hasegawa, he talked about howe he was
very adamant about wanting to keep playing when he was injured.  At the
time, HC Hasegawa told him about his own experience.  Hasewaga said that
"there was a time when I was injured, and I forced myself to play and that
was a mistake.  So take take time to heal."
He also teaches what he found to be effective from his own experience
playing.  "Just try this out."  It sounds like Taguchi has been satisfied
with many of the things that HC Hasegawa has taught him based on his
experience.  On the other hand, HC Hasegawa had been one of the elite
players in his day, so he laughs that he was a bit afraid that Hasegawa
was able to do them because it was Hasegawa.
All Star 3-Point Contest Champion.  Taguchi was the 3-Point leader in the
BJ League for the last 2 years.  In the final round, he faced Kosuke
Kanamaru (SeaHorses Mikawa/currently the B Legus leading scorer), the
NBL's 3-Point leader for the last 2 years.  He was daunted by the
fantastic performance before him, but he was also excited and it fanned
the flickering flames of fiery competition within him.  It brought out the
best in him.  If he missed the shot, he lost.  If he made it he won.  With
his back to the wall, he sunk it beautifully, and turned the pinch he was
in into the best comeback ever.  And the 3 Point Champion screamed a
passionate "YEEAAAHHHHHH!"
When faced with voices that tell him he can't do something, he goes "just
watch me".  It almost feels like he's playing a game, taking down his
opponents one after another.  And then another opponent appears, and he's
told "that's impossible", "you can't win", and he puts more effort in as
he goes "I'll show you".  That's how he has scaled every wall in front of
him to get to where he is now.  There has been no shortcut for him to
take.  And that's how he will probably keep moving forward in the future.
He played baseball, not basketball in middle school.  He did not go to a
high school with a nationally known, strong program.  He did not graduate
from a a famous college in Kanto.  He fought against all the voices that
sought to put him into some sort of mystery box and arrived at where he is
today.  And there will probably always be voices who would shut him into a
"box".  That alone will fuel the fires within the pro basketball player
Shigehiro Taguchi.  He'll scream "YEEAAAHHHHHH" as he breaks out of their
little box.
It's too bad, but the boxes that have been readied for us to be shoved
into will always have the wrong name tags on them.
2017.03.21